Know your Rights as a Student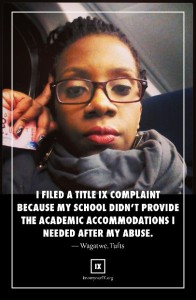 TITLE IX
Title IX Definition: "No person in the United States shall, on the basis of sex, be excluded from participation in, be denied the benefits of, or be subjected to discrimination under any education program or activity receiving Federal financial assistance" (with certain exceptions).  http://www.justice.gov/crt/about/cor/coord/titleixstat.php
Title IX requires that schools receiving federal funding:
Establish grievance procedures for Title IX complaints,
Provide a notice of nondiscrimination and contact information for the Title IX Coordinator, and
Collect and report information about Title IX and other civil rights issues.
Title IX also provides stipulations to protect individuals from sex-based discrimination in:
Recruitment, admissions, and counseling,
Financial assistance,
Athletics,
Discipline, and
Other important topics covered in Title IX are:
Sex-based harassment,

Single-sex education,

Pregnant and parenting students, and

Protection from retaliation against the Title IX process.
Taken from the Title IX Resource Guide, http://www2.ed.gov/about/offices/list/ocr/docs/dcl-title-ix-coordinators-guide-201504.pdf, 6/19/15
For more in-depth information on Title IX, visit www.knowyourix.org.
For full legal text of Title IX, visit http://www.justice.gov/crt/about/cor/coord/titleixstat.php.
Know Your Rights (under Title IX) Document: https://www.notalone.gov/assets/know-your-rights.pdf
THE CLERY ACT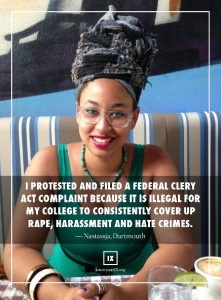 Clery Act Definition: "Originally known as the Campus Security Act, the Jeanne Clery Disclosure of Campus Security Policy and Campus Crime Statistics Act (20 USC § 1092(f)) is the landmark federal law that requires colleges and universities across the United States to disclose information about crime on and around their campuses. The law is tied to an institution's participation in federal student financial aid programs and it applies to most institutions of higher education both public and private. The Clery Act is enforced by the United States Department of Education.
"The law was amended in 1992 to add a requirement that schools afford the victims of campus sexual assault certain basic rights, and was amended again in 1998 to expand the reporting requirements. The 1998 amendments also formally named the law in memory of Jeanne Clery.  Subsequent amendments in 2000 and 2008 added provisions dealing with registered sex offender notification and campus emergency response. The 2008 amendments also added a provision to protect crime victims, "whistleblowers", and others from retaliation."  The most recent amendment in 2013 "requires colleges and universities, both public and private, participating in federal student aid programs (covering virtually every campus in the United States) to increase transparency about the scope of sexual violence on campus, guarantee victims enhanced rights, provide for standards in institutional conduct proceedings, and provide campus community wide prevention educational programming" (from http://www.cleryact.info/campus-save-act.html, 6/19/15).
The Clery Act requires colleges and universities to:
Publish an Annual Security Report (ASR) by October 1.
To have a public crime log.
Disclose crime statistics for incidents that occur on campus, in unobstructed public areas immediately adjacent to or running through the campus and at certain non-campus facilities
​Issue timely warnings about Clery Act crimes which pose a serious or ongoing threat to students and employees.
Devise an emergency response, notification and testing policy.
Compile and report fire data to the federal government and publish an annual fire safety report.
Enact policies and procedures to handle reports of missing students.
While this page contains a discussion of general legal principles and specific laws, it is neither intended to be given as legal advice nor as the practice of law, and should not be relied upon by readers as such. Before taking any action, always check with a licensed attorney in your jurisdiction to ensure compliance with the law.
Unless otherwise notated, the content of this page has been taken from: http://clerycenter.org/summary-jeanne-clery-act, 6/16/2015
The Federal Campus Sexual Assault Victims' Bill of Rights
Survivors shall be notified of their options to notify law enforcement.
Accuser and accused must have the same opportunity to have others present.
Both parties shall be informed of the outcome of any disciplinary proceeding.
Survivors shall be notified of counseling services.
Survivors shall be notified of options for changing academic and living situations.
Taken from: http://clerycenter.org/federal-campus-sexual-assault-victims%E2%80%99-bill-rights, 6/16/15
For more in-depth information regarding the Clery Act, visit: www.clerycenter.org or www.cleryact.info
For the full legal text of the Clery Act, visit: http://1.usa.gov/1BstGvm
You will have to scroll down to part (f) to begin reading the Clery Act text.